verichip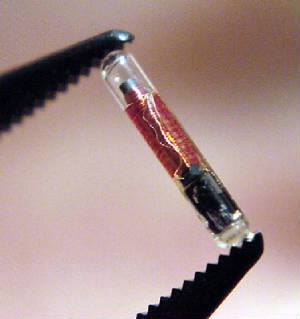 As the Revelation 13 Bible text shows, this mark is directly associated with the person of the Beast
Dr. Chuck Missler teaching in Jerusalem
Missler's main web site is Koinonia House ( http://www.khouse.org/ )

Dr. Missler and other excellent teachers have many YouTube videos and other resources.
In many churches Bible Prophesy is ignored or down-played . This is a very bad mistake.
The Bible is like a jigsaw puzzle, you must put all the pieces together so they fit together correctly.
Otherwise you cannot be sure you understand the bible correctly.
Besides, there are very serious things that will take place, perhaps in the near future.
Jesus Christ sent us the book of Revelation -- it and all other Bible passages are of utmost importance.
I am very strongly convinced of, and hold to, the Pre-Tribulation Rapture doctrine.
That is -- that Jesus Christ will come to take his Church, his beloved Bride, that is -- all true believers, to heaven.
This "Rapture" will rescue his beloved Bride from the aweful 7 year Tribulation period.
There certainly could be some trouble before the Rapture, to purify and prepare the Bride for Christ's
coming.
The Rapture is clearly taught in the Bible, the question is when it will occur.
1Thessalonians 4:
16 For the Lord himself shall descend from heaven with a shout, with the voice of the archangel, and with the trump of God: and the dead in Christ shall rise first:
17 Then we which are alive and remain shall be caught up together with them in the clouds, to meet the Lord in the air: and so shall we ever be with the Lord.
1 Corinthians 15:
51 Behold, I shew you a mystery; We shall not all sleep, but we shall all be changed,
52 In a moment, in the twinkling of an eye, at the last trump: for the trumpet shall sound, and the dead shall be raised incorruptible, and we shall be changed.

In Revelation 4:1 John sees a door open in heaven
and hears a voice like a trumpet calling him to come up. I believe this IS the Rapture of the Church
Romans 11 (New Testament) shows that the "natural branches," -- Israel -- were broken off -- so that the "wild branches" -- the Gentiles (the Church) -- could be grafted into the same root.
But when the "fullness of the Gentiles be come in," God will remove the wild branches and graft the natural branches back into their root.
This -- the 7 year Tribulation period -- it is for Israel -- not the Church.
The Church will have been removed in the Rapture.
The Church is Christ's Bride, Israel is not.
Jesus Christ is the ultimate Jewish bride groom -- he has been away at his Father's house preparing room for his new bride.
The Rapture is his return, for his bride, to take her to his Father's house in heaven.
Charles Monk in his excellent Behold the Bridegroom Comes says the 7 year Huppah (wedding celebration) will be taking place in heaven while the 7 year Tribulation is playing out on Earth.
Romans 11:
1 I say then, Hath God cast away his people? God forbid. For I also am an Israelite, of the seed of Abraham, of the tribe of Benjamin.
2 God hath not cast away his people which he foreknew. Wot ye not what the scripture saith of Elias? how he maketh intercession to God against Israel saying,
3 Lord, they have killed thy prophets, and digged down thine altars; and I am left alone, and they seek my life.
4 But what saith the answer of God unto him? I have reserved to myself seven thousand men, who have not bowed the knee to the image of Baal.
5 Even so then at this present time also there is a remnant according to the election of grace.
6 And if by grace, then is it no more of works: otherwise grace is no more grace. But if it be of works, then it is no more grace: otherwise work is no more work.
7 What then? Israel hath not obtained that which he seeketh for; but the election hath obtained it, and the rest were blinded.
8 (According as it is written, God hath given them the spirit of slumber, eyes that they should not see, and ears that they should not hear;) unto this day.
9 And David saith, Let their table be made a snare, and a trap, and a stumblingblock, and a recompence unto them:
10 Let their eyes be darkened, that they may not see, and bow down their back alway.
11 I say then, Have they stumbled that they should fall? God forbid: but rather through their fall salvation is come unto the Gentiles, for to provoke them to jealousy.
12 Now if the fall of them be the riches of the world, and the diminishing of them the riches of the Gentiles; how much more their fulness?
13 For I speak to you Gentiles, inasmuch as I am the apostle of the Gentiles, I magnify mine office:
14 If by any means I may provoke to emulation them which are my flesh, and might save some of them.
15 For if the casting away of them be the reconciling of the world, what shall the receiving of them be, but life from the dead?
16 For if the firstfruit be holy, the lump is also holy: and if the root be holy, so are the branches.
17 And if some of the branches be broken off, and thou, being a wild olive tree, wert grafted in among them, and with them partakest of the root and fatness of the olive tree;
18 Boast not against the branches. But if thou boast, thou bearest not the root, but the root thee.
19 Thou wilt say then, The branches were broken off, that I might be grafted in.
20 Well; because of unbelief they were broken off, and thou standest by faith. Be not highminded, but fear:
21 For if God spared not the natural branches, take heed lest he also spare not thee.
22 Behold therefore the goodness and severity of God: on them which fell, severity; but toward thee, goodness, if thou continue in his goodness: otherwise thou also shalt be cut off.
23 And they also, if they abide not still in unbelief, shall be grafted in: for God is able to graft them in again.
24 For if thou wert cut out of the olive tree which is wild by nature, and wert grafted contrary to nature into a good olive tree: how much more shall these, which be the natural branches, be grafted into their own olive tree?
25 For I would not, brethren, that ye should be ignorant of this mystery, lest ye should be wise in your own conceits; that blindness in part is happened to Israel, until the fulness of the Gentiles be come in.
26 And so all Israel shall be saved: as it is written, There shall come out of Sion the Deliverer, and shall turn away ungodliness from Jacob:
27 For this is my covenant unto them, when I shall take away their sins.
28 As concerning the gospel, they are enemies for your sakes: but as touching the election, they are beloved for the father's sakes.
29 For the gifts and calling of God are without repentance.
30 For as ye in times past have not believed God, yet have now obtained mercy through their unbelief:
31 Even so have these also now not believed, that through your mercy they also may obtain mercy.
32 For God hath concluded them all in unbelief, that he might have mercy upon all.
33 O the depth of the riches both of the wisdom and knowledge of God! how unsearchable are his judgments, and his ways past finding out!
34 For who hath known the mind of the Lord? or who hath been his counsellor?
35 Or who hath first given to him, and it shall be recompensed unto him again?
36 For of him, and through him, and to him, are all things: to whom be glory for ever. Amen.
The Prophet Daniel's great prayer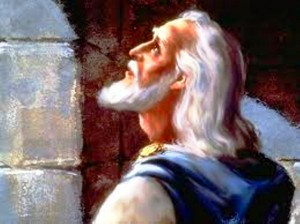 Israel and the Church are separate, but related purposes and programs of God.
We see in Daniel 9 below the great prayer of Daniel and God's great response in giving him the 70 weeks prophesy.
Daniel chapter 9:
1 In the first year of Darius the son of Ahasuerus, of the seed of the Medes, which was made king over the realm of the Chaldeans;
2 In the first year of his reign I Daniel understood by books the number of the years, whereof the word of the Lord came to Jeremiah the prophet, that he would accomplish seventy years in the desolations of Jerusalem. (Jeremiah 25:11-12 also)
(How interesting that Daniel knew from Jeremiah that 70 years was to be the length of the Israelite captivity.
Jeremiah 29:10 -- For thus saith the Lord, That after seventy years be accomplished at Babylon I will visit you, and perform my good word toward you, in causing you to return to this place.)
Daniel Chapter 9 continued:
3 And I set my face unto the Lord God, to seek by prayer and supplications, with fasting, and sackcloth, and ashes:
4 And I prayed unto the Lord my God, and made my confession, and said, O Lord, the great and dreadful God, keeping the covenant and mercy to them that love him, and to them that keep his commandments;
5 We have sinned, and have committed iniquity, and have done wickedly, and have rebelled, even by departing from thy precepts and from thy judgments:
6 Neither have we hearkened unto thy servants the prophets, which spake in thy name to our kings, our princes, and our fathers, and to all the people of the land.
7 O Lord, righteousness belongeth unto thee, but unto us confusion of faces, as at this day; to the men of Judah, and to the inhabitants of Jerusalem, and unto all Israel, that are near, and that are far off, through all the countries whither thou hast driven them, because of their trespass that they have trespassed against thee.
8 O Lord, to us belongeth confusion of face, to our kings, to our princes, and to our fathers, because we have sinned against thee.
9 To the Lord our God belong mercies and forgivenesses, though we have rebelled against him;
10 Neither have we obeyed the voice of the Lord our God, to walk in his laws, which he set before us by his servants the prophets.
11 Yea, all Israel have transgressed thy law, even by departing, that they might not obey thy voice; therefore the curse is poured upon us, and the oath that is written in the law of Moses the servant of God, because we have sinned against him.
12 And he hath confirmed his words, which he spake against us, and against our judges that judged us, by bringing upon us a great evil: for under the whole heaven hath not been done as hath been done upon Jerusalem.
13 As it is written in the law of Moses, all this evil is come upon us: yet made we not our prayer before the Lord our God, that we might turn from our iniquities, and understand thy truth.
14 Therefore hath the Lord watched upon the evil, and brought it upon us: for the Lordour God is righteous in all his works which he doeth: for we obeyed not his voice.
15 And now, O Lord our God, that hast brought thy people forth out of the land of Egypt with a mighty hand, and hast gotten thee renown, as at this day; we have sinned, we have done wickedly.
16 O Lord, according to all thy righteousness, I beseech thee, let thine anger and thy fury be turned away from thy city Jerusalem, thy holy mountain: because for our sins, and for the iniquities of our fathers, Jerusalem and thy people are become a reproach to all that are about us.
17 Now therefore, O our God, hear the prayer of thy servant, and his supplications, and cause thy face to shine upon thy sanctuary that is desolate, for the Lord's sake.
18 O my God, incline thine ear, and hear; open thine eyes, and behold our desolations, and the city which is called by thy name: for we do not present our supplications before thee for our righteousnesses, but for thy great mercies.
19 O Lord, hear; O Lord, forgive; O Lord, hearken and do; defer not, for thine own sake, O my God: for thy city and thy people are called by thy name.
20 And whiles I was speaking, and praying, and confessing my sin and the sin of my people Israel, and presenting my supplication before the Lord my God for the holy mountain of my God;
21 Yea, whiles I was speaking in prayer, even the man Gabriel, whom I had seen in the vision at the beginning, being caused to fly swiftly, touched me about the time of the evening oblation.
22 And he informed me, and talked with me, and said, O Daniel, I am now come forth to give thee skill and understanding.
23 At the beginning of thy supplications the commandment came forth, and I am come to shew thee; for thou art greatly beloved: therefore understand the matter, and consider the vision.
See my other pages for more detail on this:
The Bridegroom and the Rapture Question.
The Man of Sin (the AntiChrist).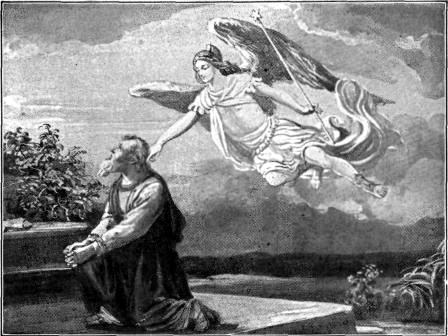 The Seventieth Week of Daniel:
The "weeks" are sabbatical weeks of 7 years each, not days -- so 70 weeks would be 490 years.
The 69 and 70th weeks are separated by the "Church Age" -- as in the "branches" argument of Romans 11.
This is sometimes called the "Great Parenthesis."
"Messiah the Prince" is Jesus Christ. As the prophesy says he is executed, "cut off."
The "prince that shall come" is the first beast of Revelation 13, who is also the Man of Sin in 2 Thessalonians 2 shown below the Daniel passage.
The "Abomination of Desolation" is the Man of Sin desecrating the Temple in 2 Thessalonians 2 at the midpoint of the 7th week of 7 years.
This 7 years is the Tribulation period and involves Israel, NOT the Church, which has been Raptured.
Dr. Chuck Missler has a 7 part YouTube series on Daniel's 70th Week.
His Daniel's 70 weeks part 7 is great in showing that the EXACT DAY of Messiah's arrival in Jerusalem was reliably predicted by this great prophesy in Daniel.
The remembrance day, celebrated in many churches, is know as Palm Sunday.
Jesus Christ notes this event in Matthew 24, as shown below.
24 Seventy weeks are determined upon thy people and upon thy holy city, to finish the transgression, and to make an end of sins, and to make reconciliation for iniquity, and to bring in everlasting righteousness, and to seal up the vision and prophecy, and to anoint the most Holy.
25 Know therefore and understand, that from the going forth of the commandment to restore and to build Jerusalem unto the Messiah the Prince shall be seven weeks, and threescore and two weeks: the street shall be built again, and the wall, even in troublous times.
26 And after threescore and two weeks shall Messiah be cut off, but not for himself: and the people of the prince that shall come shall destroy the city and the sanctuary; and the end thereof shall be with a flood, and unto the end of the war desolations are determined.
27 And he shall confirm the covenant with many for one week: and in the midst of the week he shall cause the sacrifice and the oblation to cease, and for the overspreading of abominations he shall make it desolate, even until the consummation, and that determined shall be poured upon the desolate.
2 Thessalonians 2:
1 Now we beseech you, brethren, by the coming of our Lord Jesus Christ, and by our gathering together unto him,
2 That ye be not soon shaken in mind, or be troubled, neither by spirit, nor by word, nor by letter as from us, as that the day of Christ is at hand.
3 Let no man deceive you by any means: for that day shall not come, except there come a falling away first, and that man of sin be revealed, the son of perdition;
4 Who opposeth and exalteth himself above all that is called God, or that is worshipped; so that he as God sitteth in the temple of God, shewing himself that he is God.
5 Remember ye not, that, when I was yet with you, I told you these things?
6 And now ye know what withholdeth that he might be revealed in his time.
7 For the mystery of iniquity doth already work: only he who now letteth will let, until he be taken out of the way.
8 And then shall that Wicked be revealed, whom the Lord shall consume with the spirit of his mouth, and shall destroy with the brightness of his coming:
9 Even him, whose coming is after the working of Satan with all power and signs and lying wonders,
10 And with all deceivableness of unrighteousness in them that perish; because they received not the love of the truth, that they might be saved.
11 And for this cause God shall send them strong delusion, that they should believe a lie:
12 That they all might be damned who believed not the truth, but had pleasure in unrighteousness.
13 But we are bound to give thanks alway to God for you, brethren beloved of the Lord, because God hath from the beginning chosen you to salvation through sanctification of the Spirit and belief of the truth:
14 Whereunto he called you by our gospel, to the obtaining of the glory of our Lord Jesus Christ.
15 Therefore, brethren, stand fast, and hold the traditions which ye have been taught, whether by word, or our epistle.
16 Now our Lord Jesus Christ himself, and God, even our Father, which hath loved us, and hath given us everlasting consolation and good hope through grace,
17 Comfort your hearts, and stablish you in every good word and work.
Matthew 24:
1 And Jesus went out, and departed from the temple: and his disciples came to him for to shew him the buildings of the temple.
2 And Jesus said unto them, See ye not all these things? verily I say unto you, There shall not be left here one stone upon another, that shall not be thrown down.
3 And as he sat upon the mount of Olives, the disciples came unto him privately, saying, Tell us, when shall these things be? and what shall be the sign of thy coming, and of the end of the world?
4 And Jesus answered and said unto them, Take heed that no man deceive you.
5 For many shall come in my name, saying, I am Christ; and shall deceive many.
6 And ye shall hear of wars and rumours of wars: see that ye be not troubled: for all these things must come to pass, but the end is not yet.
7 For nation shall rise against nation, and kingdom against kingdom: and there shall be famines, and pestilences, and earthquakes, in divers places.
8 All these are the beginning of sorrows.
9 Then shall they deliver you up to be afflicted, and shall kill you: and ye shall be hated of all nations for my name's sake.
10 And then shall many be offended, and shall betray one another, and shall hate one another.
11 And many false prophets shall rise, and shall deceive many.
12 And because iniquity shall abound, the love of many shall wax cold.
13 But he that shall endure unto the end, the same shall be saved.
14 And this gospel of the kingdom shall be preached in all the world for a witness unto all nations; and then shall the end come.
15 When ye therefore shall see the abomination of desolation, spoken of by Daniel the prophet, stand in the holy place, (whoso readeth, let him understand:)
16 Then let them which be in Judaea flee into the mountains:
17 Let him which is on the housetop not come down to take any thing out of his house:
18 Neither let him which is in the field return back to take his clothes.
19 And woe unto them that are with child, and to them that give suck in those days!
20 But pray ye that your flight be not in the winter, neither on the sabbath day:
21 For then shall be great tribulation, such as was not since the beginning of the world to this time, no, nor ever shall be.
22 And except those days should be shortened, there should no flesh be saved: but for the elect's sake those days shall be shortened.
23 Then if any man shall say unto you, Lo, here is Christ, or there; believe it not.
24 For there shall arise false Christs, and false prophets, and shall shew great signs and wonders; insomuch that, if it were possible, they shall deceive the very elect.
25 Behold, I have told you before.
26 Wherefore if they shall say unto you, Behold, he is in the desert; go not forth: behold, he is in the secret chambers; believe it not.
27 For as the lightning cometh out of the east, and shineth even unto the west; so shall also the coming of the Son of man be.
28 For wheresoever the carcase is, there will the eagles be gathered together.
29 Immediately after the tribulation of those days shall the sun be darkened, and the moon shall not give her light, and the stars shall fall from heaven, and the powers of the heavens shall be shaken:
30 And then shall appear the sign of the Son of man in heaven: and then shall all the tribes of the earth mourn, and they shall see the Son of man coming in the clouds of heaven with power and great glory.
31 And he shall send his angels with a great sound of a trumpet, and they shall gather together his elect from the four winds, from one end of heaven to the other.
32 Now learn a parable of the fig tree; When his branch is yet tender, and putteth forth leaves, ye know that summer is nigh:
33 So likewise ye, when ye shall see all these things, know that it is near, even at the doors.
34 Verily I say unto you, This generation shall not pass, till all these things be fulfilled.
35 Heaven and earth shall pass away, but my words shall not pass away.
36 But of that day and hour knoweth no man, no, not the angels of heaven, but my Father only.
37 But as the days of Noah were, so shall also the coming of the Son of man be.
38 For as in the days that were before the flood they were eating and drinking, marrying and giving in marriage, until the day that Noe entered into the ark,
39 And knew not until the flood came, and took them all away; so shall also the coming of the Son of man be.
40 Then shall two be in the field; the one shall be taken, and the other left.
41 Two women shall be grinding at the mill; the one shall be taken, and the other left.
42 Watch therefore: for ye know not what hour your Lord doth come.
43 But know this, that if the goodman of the house had known in what watch the thief would come, he would have watched, and would not have suffered his house to be broken up.
44 Therefore be ye also ready: for in such an hour as ye think not the Son of man cometh.
45 Who then is a faithful and wise servant, whom his lord hath made ruler over his household, to give them meat in due season?
46 Blessed is that servant, whom his lord when he cometh shall find so doing.
47 Verily I say unto you, That he shall make him ruler over all his goods.
48 But and if that evil servant shall say in his heart, My lord delayeth his coming;
49 And shall begin to smite his fellowservants, and to eat and drink with the drunken;
50 The lord of that servant shall come in a day when he looketh not for him, and in an hour that he is not aware of,
51 And shall cut him asunder, and appoint him his portion with the hypocrites: there shall be weeping and gnashing of teeth.
Jerusalem as seen from the Mount of Olives