The boy's Dad is a dedicated and experienced high school teacher.
In his mind set, professional protocols, etc., corporal discipline is a no-no, so that leaves "time outs," withholding privileges, and yelling, to try to handle unruly behavior.
My wife, thank God, is very tenacious, tough, and diligent in trying to correct the unruly behavior.
This has involved many intense talks and time-outs with this 7 year old boy.
We are sorry that coming to Grandpa and Grandma's for a week has to be boot camp, but, oh well!
Backing up a bit, this same boy, in watching me pray at meals, asked if he could pray too.
So, we said, you start with "Dear Father," they you thank God for things, and you can ask him for things.
Then, you close with "in Jesus name we pray, Amen."
During one of my wife's intense "time outs" with this boy, I fervently prayed that God would work in this boy's life.
Though this boy has serious discipline problems, he shows great promise with God, as I have noted above.
Philippians 4:6: Be careful for nothing; but in every thing by prayer and supplication with thanksgiving let your requests be made known unto God.

We are searching for a way to talk more seriously with the parents, my adopted daughter, and her husband.
A serious, concerted, quality, Christian education, beginning, absolutely, with the correct, essential, Special Creation foundation could give this kid essential truths, values, excitement, and drive to please Jesus Christ and to be joyful doing so.
My daughter did profess Jesus Christ in her younger days and I think is a true believer, but went astray and married a highly intelligent and gifted, but, non-believing man.
In our view, time is running out for the boy.
It maybe that persuading her, to do the job, is our best bet.
This 7 year old is barely manageable now, I hate to think about future years.
I'm afraid that if a serious Christian education is neglected, military school, or the criminal justice system may become the default.
We are forced to think, also, and very sadly, that, if the unruly, and perhaps potentially dangerous, behavior cannot realistically be managed, we may have to decline extended visits from this boy.
Romans 12:
11 Not slothful in business; fervent in spirit; serving the Lord;
12 Rejoicing in hope; patient in tribulation; continuing instant in prayer;
13 Distributing to the necessity of saints; given to hospitality.

I'm sure many many grand-folks experience this same challenging unruliness from grandchildren they would like to love and be good friends with.
The forces of evil are absolutely real, fully engaged against God and against his people.
I'm very sure this boy's unruliness is a serious case in point of the failure of the modern education system.
The Bible's "spare the rod and spoil the child is correct."
At times of very pronounced personal insolence, aimed by this boy at my wife, she has though seriously of applying the Biblical principle just mentioned.
But, I have heard horror stories of vengeful kids reporting this to their school teachers who in-turn report it to authorities.
The Old Testament Law instructed that an incorrigable child was to be stoned to death.
She would be perfectly right in beating the kid.
But, many wicked people lurk about.
I don't want my wife going to jail.
I do not believe for a second that this awful doctrine or policy of modern education is just a mistake.
It is the deliberate malicious, evil, purpose of evil humans, fallen angels, and demons, etc.
Ephesians 6:18: Praying always with all prayer and supplication in the Spirit, and watching thereunto with all perseverance and supplication for all saints;

Romans 8:
28 And we know that all things work together for good to them that love God, to them who are the called according to his purpose.
29 For whom he did foreknow, he also did predestinate to be conformed to the image of his Son, that he might be the firstborn among many brethren.
30 Moreover whom he did predestinate, them he also called: and whom he called, them he also justified: and whom he justified, them he also glorified.
31 What shall we then say to these things? If God be for us, who can be against us?
32 He that spared not his own Son, but delivered him up for us all, how shall he not with him also freely give us all things?
33 Who shall lay any thing to the charge of God's elect? It is God that justifieth.
34 Who is he that condemneth? It is Christ that died, yea rather, that is risen again, who is even at the right hand of God, who also maketh intercession for us.
35 Who shall separate us from the love of Christ? shall tribulation, or distress, or persecution, or famine, or nakedness, or peril, or sword?
36 As it is written, For thy sake we are killed all the day long; we are accounted as sheep for the slaughter.
37 Nay, in all these things we are more than conquerors through him that loved us.
38 For I am persuaded, that neither death, nor life, nor angels, nor principalities, nor powers, nor things present, nor things to come,
39 Nor height, nor depth, nor any other creature, shall be able to separate us from the love of God, which is in Christ Jesus our Lord.
Christian baptizm in the Jordan River, Israel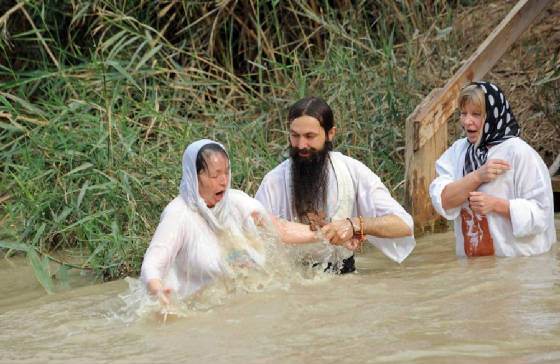 Symbolic rite of entry to Christianity for those who have embraced the Lord Jesus Christ by faith.