Psalm 90: Who knoweth the power of thine anger?..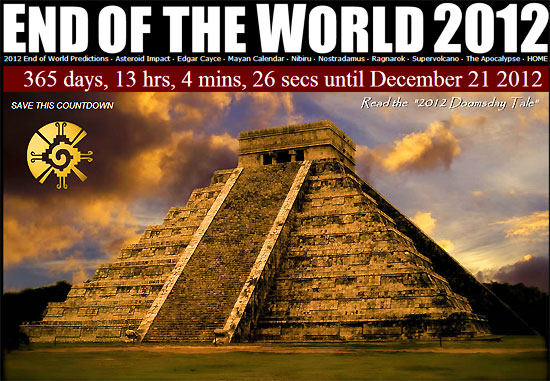 ........So teach us to number our days, that we may apply our hearts unto wisdom.
Seal of the United States of America-GreatSeal.com
InfoWars.com has an article - Ten Reasons Why It's Not the End of the World as We Know It.
Their first paragraph has some good points as does the rest of their article.
"Despite the fact that there are innumerable genuine crises and real economic problems all over the world for which people should be making serious preparations, manufactured hysteria surrounding supposed Mayan prophecies about the end of the world on December 21 has dominated the headlines and stoked panic amongst significant numbers of people."
They are referring to physical, economic, and security preparations.
We should heartily encourage preparing for the hereafter, as well as allowing for preparation for the here and now.
A recent British article notes the hysteria - Doomsayers await the end of the world – in 12 days' time.
Wikipedia seems to have a comprehensive article on the subject -- 2012 phenomenon.
WINTER SOLSTICE -- DECEMBER 21

From Wikipedia, the free encyclopedia (I sent them a donation, so I don't feel like I'm always free-loading):
(I do like it that they speak of a "range" of end time beliefs coming together, or perhaps interacting)
Their article --
"The
2012 phenomenon
comprises a range of eschatological beliefs according to which cataclysmic or transformative events will occur on 21 December 2012. This date is regarded as the end-date of a 5125-year-long cycle in the Mesoamerican Long Count calendar. Various astronomical alignments and numerological formulae have been proposed as pertaining to this date, though none have been accepted by mainstream scholarship.
A New Age interpretation of this transition is that the date marks the start of time in which Earth and its inhabitants may undergo a positive physical or spiritual transformation, and that 21 December 2012 may mark the beginning of a new era. Others suggest that the date marks the end of the world or a similar catastrophe.
Scenarios suggested for the end of the world include the arrival of the next solar maximum, an interaction between Earth and the black hole at the center of the galaxy, or Earth's collision with a planet called "Nibiru".
Scholars from various disciplines have dismissed the idea of such cataclysmic events occurring in 2012. Professional Mayanist scholars state that predictions of impending doom are not found in any of the extant classic Maya accounts, and that the idea that the Long Count calendar "ends" in 2012 misrepresents Maya history and culture.
Astronomers and other scientists have rejected the proposals as pseudoscience, stating that they conflict with simple astronomical observations and amount to "a distraction from more important science concerns, such as global warming and loss of biological diversity".
The Wikipedia article continues.
WINTER SOLSTICE - DECEMBER 21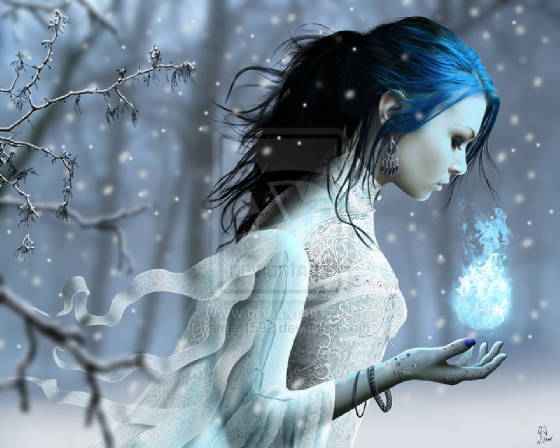 There are many important and future Biblical events that are still ahead before God incinerates this present heavens and earth, and makes new heavens and earth. See 2 Peter 3:10-14.
2 Thessalonians chapter 2 tells of the Man of Sin desecrating the Temple in Jerusalem.
Keep in mind, the Temple, in Jerusalem must be rebuilt, because it was destroyed in 70AD.
Furthermore, something is restraining this evil person from coming forth -- see verse 7 (old word "let" means restrain)
Modern version - English Standard Version - ESV says, " For the mystery of lawlessness is already at work. Only he who now restrains it will do so until he is out of the way."
I'm convinced that it is the existence of the Church, which is restraining (Christ's body of all true believers).
So the Church must be removed - this is know as the Rapture, and has not occurred yet.
The Rapture can occur any time, but my feeling is that the world situation is not quite to the point for the Lord take his Church out.
The world will be a much much more wicked and dangerous place following the Rapture.
Chapter 2:
1 Now we beseech you, brethren, by the coming of our Lord Jesus Christ, and by our gathering together unto him,
2 That ye be not soon shaken in mind, or be troubled, neither by spirit, nor by word, nor by letter as from us, as that the day of Christ is at hand.
3 Let no man deceive you by any means: for that day shall not come, except there come a falling away first, and that man of sin be revealed, the son of perdition;
4 Who opposeth and exalteth himself above all that is called God, or that is worshipped; so that he as God sitteth in the temple of God, shewing himself that he is God.
5 Remember ye not, that, when I was yet with you, I told you these things?
6 And now ye know what withholdeth that he might be revealed in his time.
7 For the mystery of iniquity doth already work: only he who now letteth will let, until he be taken out of the way.
8 And then shall that Wicked be revealed, whom the Lord shall consume with the spirit of his mouth, and shall destroy with the brightness of his coming:
9 Even him, whose coming is after the working of Satan with all power and signs and lying wonders,
10 And with all deceivableness of unrighteousness in them that perish; because they received not the love of the truth, that they might be saved.
11 And for this cause God shall send them strong delusion, that they should believe a lie:
12 That they all might be damned who believed not the truth, but had pleasure in unrighteousness.
13 But we are bound to give thanks alway to God for you, brethren beloved of the Lord, because God hath from the beginning chosen you to salvation through sanctification of the Spirit and belief of the truth:
14 Whereunto he called you by our gospel, to the obtaining of the glory of our Lord Jesus Christ.
15 Therefore, brethren, stand fast, and hold the traditions which ye have been taught, whether by word, or our epistle.
16 Now our Lord Jesus Christ himself, and God, even our Father, which hath loved us, and hath given us everlasting consolation and good hope through grace,
17 Comfort your hearts, and stablish you in every good word and work.
I looked, and behold, a door was opened in heaven
the first voice which I heard was as it were of a trumpet talking with me; which said Come up hither
WINTER SOLSTICE
Let us seize the opportunity to speak up for the Lord Jesus Christ.
Let me review some things we should be ready to say to anxious 12-20-2012 folks.
In the last 70 years or so we have seen an explosion of high technology.
This in turn, has allowed us peer ever more deeply into the intricacies of the living world.
We know from our own technology that complex things DO NOT make themselves.
We also see that the living world is VASTLY TOO COMPLEX TO BE AN ACCIDENT. Non-living world is too.
Step one of the Gospel, as shown in the following passage, is that the clear evidence of creation absolutely proves the existence of the Creator God.
God expects us to honor, thank, praise, and worship him, etc., etc., etc.
But we all come short of his requirements. Romans 3:23, 6:23 and other passages show this.
This is why we must embrace the Savior - the Lord Jesus Christ.
To become a Christian see my pages They Came to Jesus, and Jesus Gets a Visitor in the Night.
Also see my page on the Resurrection.
Special Creation of this world by God is a certainty, but wicked people refuse God and invent foolish devices, such as Darwinism, or Evolution, in a desperate attempt to try to blot out God.
It is NOT science versus non-science.
It is moral right in accepting God and embracing his Savior the Lord Jesus Christ versus, the refusal to do so.
TO REPEAT, CREATION IS THE CORRECT FIRST STEP IN PRESENTING THE GOSPEL, NOT BIBLE PASSAGES.
New Testament book of Romans chapter 1:
15 So, as much as in me is, I am ready to preach the gospel to you that are at Rome also.
16 For I am not ashamed of the gospel of Christ: for it is the power of God unto salvation to every one that believeth; to the Jew first, and also to the Greek.
17 For therein is the righteousness of God revealed from faith to faith: as it is written, The just shall live by faith.
18 For the wrath of God is revealed from heaven against all ungodliness and unrighteousness of men, who hold the truth in unrighteousness;
19 Because that which may be known of God is manifest in them; for God hath shewed it unto them.
20 For the invisible things of him from the creation of the world are clearly seen, being understood by the things that are made, even his eternal power and Godhead; so that they are without excuse:
21 Because that, when they knew God, they glorified him not as God, neither were thankful; but became vain in their imaginations, and their foolish heart was darkened.
22 Professing themselves to be wise, they became fools,
23 And changed the glory of the uncorruptible God into an image made like to corruptible man, and to birds, and fourfooted beasts, and creeping things.
24 Wherefore God also gave them up to uncleanness through the lusts of their own hearts, to dishonour their own bodies between themselves:
25 Who changed the truth of God into a lie, and worshipped and served the creature more than the Creator, who is blessed for ever. Amen.
Luke 2: And the angel said unto them, Fear not:
Fear not: for, behold, I bring you good tidings of great joy, which shall be to all people.

For unto you is born this day in the city of David
a Saviour, which is Christ the Lord....the babe wrapped in swaddling clothes, lying in a manger. Lk2
The Gospel of Luke, in the New Testament, shows the glorious announcement by the Harold Angels.
Chapter 2 (the birth of the baby Jesus Christ):
1 And it came to pass in those days, that there went out a decree from Caesar Augustus that all the world should be taxed.
2 (And this taxing was first made when Cyrenius was governor of Syria.)
3 And all went to be taxed, every one into his own city.
4 And Joseph also went up from Galilee, out of the city of Nazareth, into Judaea, unto the city of David, which is called Bethlehem; (because he was of the house and lineage of David:)
5 To be taxed with Mary his espoused wife, being great with child.
6 And so it was, that, while they were there, the days were accomplished that she should be delivered.
7 And she brought forth her firstborn son, and wrapped him in swaddling clothes, and laid him in a manger; because there was no room for them in the inn.
8 And there were in the same country shepherds abiding in the field, keeping watch over their flock by night.
9 And, lo, the angel of the Lord came upon them, and the glory of the Lord shone round about them: and they were sore afraid.
10 And the angel said unto them, Fear not: for, behold, I bring you good tidings of great joy, which shall be to all people.
11 For unto you is born this day in the city of David a Saviour, which is Christ the Lord.
12 And this shall be a sign unto you; Ye shall find the babe wrapped in swaddling clothes, lying in a manger.
13 And suddenly there was with the angel a multitude of the heavenly host praising God, and saying,
14 Glory to God in the highest, and on earth peace, good will toward men.
15 And it came to pass, as the angels were gone away from them into heaven, the shepherds said one to another, Let us now go even unto Bethlehem, and see this thing which is come to pass, which the Lord hath made known unto us.
16 And they came with haste, and found Mary, and Joseph, and the babe lying in a manger.
17 And when they had seen it, they made known abroad the saying which was told them concerning this child.
18 And all they that heard it wondered at those things which were told them by the shepherds.
19 But Mary kept all these things, and pondered them in her heart.
20 And the shepherds returned, glorifying and praising God for all the things that they had heard and seen, as it was told unto them.
Christian baptism - River Jordan, Israel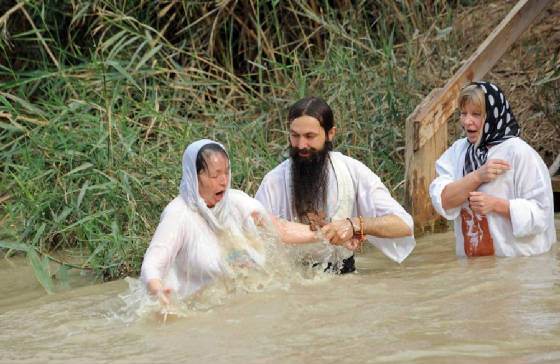 Baptism - symbolic entry to Christianity for those who have embraced by faith, the Lord Jesus Christ
Luke (New Testament) chapter 19 shows Jesus' official debut to Israel -- celebrated as Palm Sunday in many Christian churches.
The Prophet Daniel, in the Old Testament foretold the exact day of the Messiah's coming, in his famous 70 weeks prophesy in Daniel 9:24-27.
Notice verse 40 speaks of the great importance of the occasion.
Verses 42 and 44 make it is clear that Jesus DID expect them to know the exact day.
Jesus for-tells the terrible judgement and destruction of Jerusalem which was done by the Roman General Titus in 70 A.D.
Two million Jews died in that terrible event.
The Temple was destroyed and the Mosaic sacrifices have ceased, through our day.
Chapter 19:
29 And it came to pass, when he was come nigh to Bethphage and Bethany, at the mount called the mount of Olives, he sent two of his disciples,
30 Saying, Go ye into the village over against you; in the which at your entering ye shall find a colt tied, whereon yet never man sat: loose him, and bring him hither.
31 And if any man ask you, Why do ye loose him? thus shall ye say unto him, Because the Lord hath need of him.
32 And they that were sent went their way, and found even as he had said unto them.
33 And as they were loosing the colt, the owners thereof said unto them, Why loose ye the colt?
34 And they said, The Lord hath need of him.
35 And they brought him to Jesus: and they cast their garments upon the colt, and they set Jesus thereon.
36 And as he went, they spread their clothes in the way.
37 And when he was come nigh, even now at the descent of the mount of Olives, the whole multitude of the disciples began to rejoice and praise God with a loud voice for all the mighty works that they had seen;
38 Saying, Blessed be the King that cometh in the name of the Lord: peace in heaven, and glory in the highest.
39 And some of the Pharisees from among the multitude said unto him, Master, rebuke thy disciples.
40 And he answered and said unto them, I tell you that, if these should hold their peace, the stones would immediately cry out.
41 And when he was come near, he beheld the city, and wept over it,
42 Saying, If thou hadst known, even thou, at least in this thy day, the things which belong unto thy peace! but now they are hid from thine eyes.
43 For the days shall come upon thee, that thine enemies shall cast a trench about thee, and compass thee round, and keep thee in on every side,
44 And shall lay thee even with the ground, and thy children within thee; and they shall not leave in thee one stone upon another; because thou knewest not the time of thy visitation.