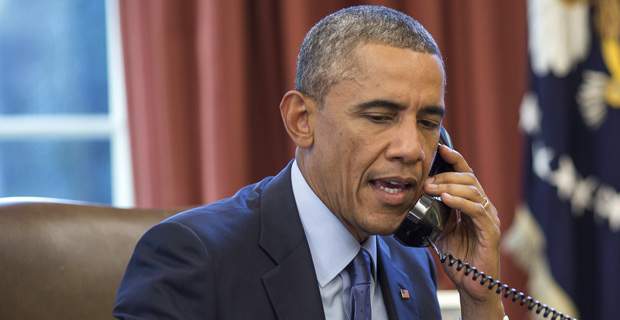 Obama's Secret Treaty Would Be The Most Important Step Toward A One World Economic Systemsays a new Infowars.com article.
"Barack Obama is secretly negotiating the largest international trade agreement in history, and the mainstream media in the United States is almost completely ignoring it. If this treaty is adopted, it will be the most important step toward a one world economic system that we have ever seen. The name of this treaty is "the Trans-Pacific Partnership", and the text of the treaty is so closely guarded that not even members of Congress know what is in it. Right now, there are 12 countries that are part of the negotiations: the United States, Canada, Australia, Brunei, Chile, Japan, Malaysia, Mexico, New Zealand, Peru, Singapore and Vietnam. These nations have a combined population of 792 million people and account for an astounding 40 percent of the global economy. And it is hoped that the EU, China and India will eventually join as well. This is potentially the most dangerous economic treaty of our lifetimes, and yet there is very little political debate about it in this country."
We are in the toes of King Nebuchadnezzar's image - evil humans, demons and fallen angels (iron and clay) are teamed up and destroying everything (Daniel 2:40-49, also Nebuchadnezzar dream, also Daniel 2 -- Chuck Missler, video.
Bible teacher Chuck Missler expertly explains, this passage, Daniel 2:40-45 in a video Book of Daniel part 1 of 2 Chuck Missler (between 1:36:00-2:00:00).
See also Chuck Missler's video - Return Of The Nephilim (between 1:00:00-2:00:00).
It's funny, but sad we must reference an Asian New source for details because our press in the U.S. is silent, or should we also say derelict:
"The following list of issues addressed by this treaty is from
an Malaysian news source
…
• domestic court decisions and international legal standards (e.g., overriding domestic laws on both trade and nontrade matters, foreign investors' right to sue governments in international tribunals that would overrule the national sovereignty)

• environmental regulations (e.g., nuclear energy, pollution, sustainability)

• financial deregulation (e.g., more power and privileges to the bankers and financiers)

• food safety (e.g., lowering food self-sufficiency, prohibition of mandatory labeling of genetically modified products, or bovine spongiform encephalopathy (BSE) or mad cow disease)

• Government procurement (e.g., no more buy locally produced/grown)

• Internet freedom (e.g., monitoring and policing user activity)

• labour (e.g., welfare regulation, workplace safety, relocating domestic jobs abroad)

• patent protection, copyrights (e.g., decrease access to affordable medicine)

• public access to essential services may be restricted due to investment rules (e.g., water, electricity, and gas)"
Infowars.com continues, "Why can't we get this type of reporting in the United States?
And if this treaty is ultimately approved by Congress, we will essentially be stuck with it forever."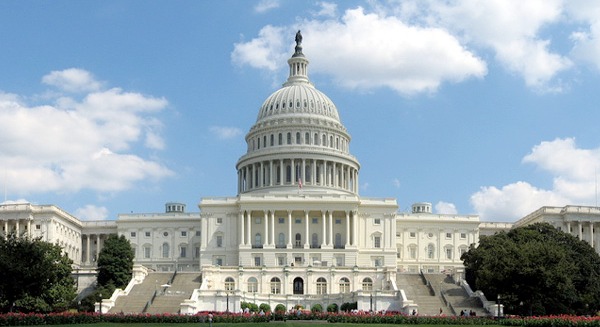 This situation is so serious that the reader really should read their whole article, and try to warn others.
This will be a real test to see if our new Republican congress can stand the serious frontal assault of this EVIL.
But, then again, the new congress is not due to be seated untill late January, so this evil has a great opportunity to be ramed through especially in view of the long holiday congressional recess.
Is is astonishing, and perhaps we should say horrifying, the sheer speed at which these many evils and calamities are coming upon us.
The New Testament book of Jude warns us that God has and does judge evil.
Our own churches are by NO MEANS exempt from evil and evil doers. We must watch like hawks.
Jude emphasises that we must "earnestly contend" for the true Christian faith, because evil persons secretly sneak into our churches. See the JFB commentary, cited below, for a detailed explanation of Jude.
Jude:
1 Jude, the servant of Jesus Christ, and brother of James, to them that are sanctified by God the Father, and preserved in Jesus Christ, and called:
2 Mercy unto you, and peace, and love, be multiplied.
3 Beloved, when I gave all diligence to write unto you of the common salvation, it was needful for me to write unto you, and exhort you that ye should earnestly contend for the faith which was once delivered unto the saints.
4 For there are certain men crept in unawares, who were before of old ordained to this condemnation, ungodly men, turning the grace of our God into lasciviousness, and denying the only Lord God, and our Lord Jesus Christ.

Why would I use an 1871 bible commentary?
Because it predates much of the foolish thinking Darwinian Evolution swept into commentator's minds
5 I will therefore put you in remembrance, though ye once knew this, how that the Lord, having saved the people out of the land of Egypt, afterward destroyed them that believed not.
6 And the angels which kept not their first estate, but left their own habitation, he hath reserved in everlasting chains under darkness unto the judgment of the great day.
7 Even as Sodom and Gomorrha, and the cities about them in like manner, giving themselves over to fornication, and going after strange flesh, are set forth for an example, suffering the vengeance of eternal fire.
8 Likewise also these filthy dreamers defile the flesh, despise dominion, and speak evil of dignities.
9 Yet Michael the archangel, when contending with the devil he disputed about the body of Moses, durst not bring against him a railing accusation, but said, The Lord rebuke thee.
10 But these speak evil of those things which they know not: but what they know naturally, as brute beasts, in those things they corrupt themselves.
11 Woe unto them! for they have gone in the way of Cain, and ran greedily after the error of Balaam for reward, and perished in the gainsaying of Core.
12 These are spots in your feasts of charity, when they feast with you, feeding themselves without fear: clouds they are without water, carried about of winds; trees whose fruit withereth, without fruit, twice dead, plucked up by the roots;
13 Raging waves of the sea, foaming out their own shame; wandering stars, to whom is reserved the blackness of darkness for ever.
14 And Enoch also, the seventh from Adam, prophesied of these, saying, Behold, the Lord cometh with ten thousands of his saints,
15 To execute judgment upon all, and to convince all that are ungodly among them of all their ungodly deeds which they have ungodly committed, and of all their hard speeches which ungodly sinners have spoken against him.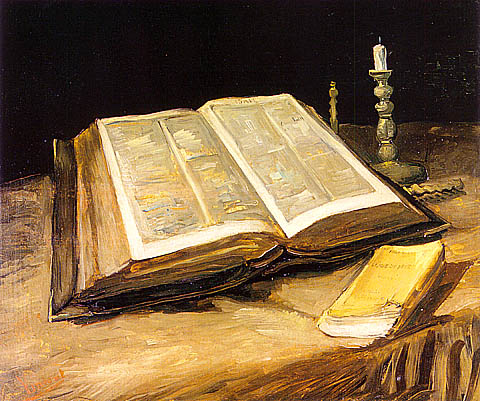 16 These are murmurers, complainers, walking after their own lusts; and their mouth speaketh great swelling words, having men's persons in admiration because of advantage.
17 But, beloved, remember ye the words which were spoken before of the apostles of our Lord Jesus Christ;
18 How that they told you there should be mockers in the last time, who should walk after their own ungodly lusts.
19 These be they who separate themselves, sensual, having not the Spirit.
20 But ye, beloved, building up yourselves on your most holy faith, praying in the Holy Ghost,
21 Keep yourselves in the love of God, looking for the mercy of our Lord Jesus Christ unto eternal life.
22 And of some have compassion, making a difference:
23 And others save with fear, pulling them out of the fire; hating even the garment spotted by the flesh.
24 Now unto him that is able to keep you from falling, and to present you faultless before the presence of his glory with exceeding joy,
25 To the only wise God our Saviour, be glory and majesty, dominion and power, both now and ever. Amen.
Believer's Baptism in the Jordan River, Israel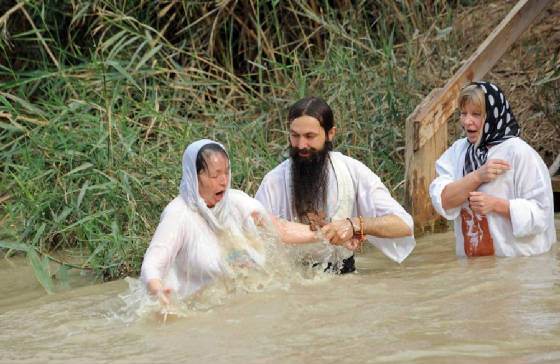 Baptism - symbolic entry to Christianity for those who have embraced the Lord Jesus Christ by faith