One should rehearse the baptism event with the minister or other believer doing the baptising.
Make sure they WILL baptise the person in the name of the Father, Son, and Holy Spirit.
We must follow Jesus' "Great Commission" command in Matthew 28:19-20:
18 And Jesus came and spake unto them, saying, All power is given unto me in heaven and in earth.
19 Go ye therefore, and teach all nations, baptizing them in the name of the Father, and of the Son, and of the Holy Ghost:
20 Teaching them to observe all things whatsoever I have commanded you: and, lo, I am with you always, even unto the end of the world. Amen.
For more on baptism read Romans 6:1-7, Colossians 2:11-13, and 1 Peter 3:21.
Regarding infant baptism, I am collecting my thoughts to counsel a friend concerned that his grandbaby has not been baptised.
I was baptised, by sprinkling, as an infant.
This is a praiseworthy committment on the part of the parents to raise their child in the Christian faith.
But, when I as a young adult, made my decision of faith in Jesus Christ, I began to read the Bible in earnest.
I seemed to me that my infant baptism did not satisfy Jesus' command in Matthew 28:19-20.
Jesus said to "Teaching them to observe all things whatsoever I have commanded you."
Obviously an infant could not fit in here.
Children should certainly be progressively brought to full knowledge and faith in Jesus Christ as soon as they can.
There are NO instances of infant baptism in the New Testament (NT) and it seems to me, it is at odds with the many occasions of believer's baptisms in the New Testament.
The non-church Christian group I was with, basically, ignored baptism, so baptism was my decision.
I told the Baptist Church pastor I was not really meaning to join his church, but I believed Jesus Christ wanted me to be baptized.
But he accepted my words and scheduled me for baptism.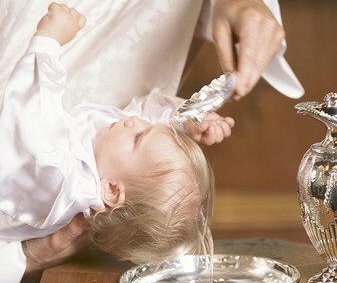 Infant baptism is normally linked with Confirmation, where the young adult formally professes faith in Jesus Christ, thus confirming the commitment made on his/her behalf by their parents when he/she was baptised as an infant.
This is what is called Covenant Theology, where Old Testament Israel and the New Testament Church are both seen as one covenant people of God.
They might mention, Genesis 17:13:
He that is born in thy house, and he that is bought with thy money, must needs be circumcised: and my covenant shall be in your flesh for an everlasting covenant.
Thus, Israel circumcised 8 day old infant boys, and Covenant churches baptize infant children.
Or Hebrews 13:20-21:
20 Now the God of peace, that brought again from the dead our Lord Jesus, that great shepherd of the sheep, through the blood of the everlasting covenant,
21 Make you perfect in every good work to do his will, working in you that which is wellpleasing in his sight, through Jesus Christ; to whom be glory for ever and ever. Amen.
But this is ONLY partly correct. Israel and the Church are two DIFFERENT, though related programs of God as the Apostle Paul makes clear in Romans 9-11.
So it DOES NOT follow logically that infants in this present Church Age, should be baptised.
In Romans chapters 9-11, The Apostle Paul struggles with God's setting aside of his Old Testament people Israel, and pursuing his work with his New Testament Church.
The Church starts as totally Jewish, but quickly becomes almost totally Gentile.
In Chapter 11 Paul drives home his argument showing that God had broken off the natural branches, Israel, from their root and grafted in wild branches, the largly Gentile Church into the same root.
Israel will be grafted back in after the Rapture of the Church removes Church believers from the earth.
So, Israel is NOT the Church, and the Church is NOT Israel - these are two different, though related programs of God.
Thus, circumcision was for Israeli infant boys, New Testament baptism is for Christian believers.
Use the link above to see the entire Romans chapter 11, or see it at the end of this web page.

He causeth the grass to grow for the cattle, and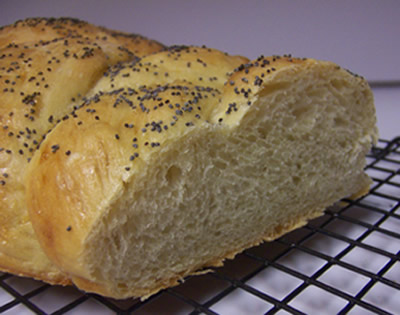 herb for the service of man: that he may bring forth food out of the earth; Psalm 104:14
And wine that maketh glad the heart of man,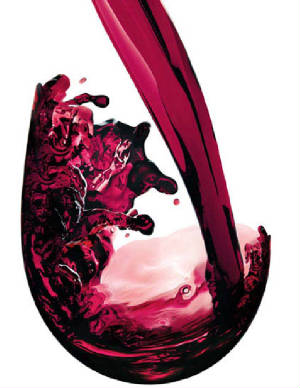 and oil to make his face to shine, and bread which strengtheneth man's heart. Psalm 104:15
The Lord's Supper, or Communion is the other great Christian institution.
Although a memorial, it is far more than this.
It is the eating and drinking of Christ's body and blood.
Many churches mistakenly think of it as a memorial only, and that the bread and wine are mere casual symbols.
Paul makes clear in the 1 Corinthians 11 passage below, that Jesus Christ IS REALLY PRESENT.
The Apostle Paul notes this genuine presence of the Lord, and sternly warns against eating this meal in a casual manner.
Because of the Lord's actual presence, WINE is the ONLY actual representative for the Lord's blood.
Wine IS the Virtual Blood of Christ. Nothing other than red wine should be used at the Lord's Table.
In the John 2 passage below, where he makes the water into wine, Jesus Christ is making a EQUASION between his wine and his innocent blood.
This miracle is his FIRST MIRACLE, it is on the THIRD DAY (extremely significant), and it is a MARRIAGE.
Believers are married to Christ, their sins having been paid for by his innocent blood.
This miracle is of extreme significance. Wine is the VIRTUAL BLOOD OF CHRIST.
1 John 5:8 is also extremely significant: And there are three that bear witness in earth, the Spirit, and the water, and the blood: and these three agree in one. See my page 1 John 5:8 for more detail.
It is the conspicuous, significant, and otherwise inexplicable health benefits of moderate, daily, wine usage that bears witness, as in the above passage. Wine is the VIRTUAL BLOOD OF CHRIST.
See my pages, Red Wine Only at Christian Communion, and They Have No Wine for more detail.
Get a bottle of regular red wine, some unleavened bread, invite your Christian friends and do the
Lord's Supper at your home following Bible texts and guidelines!
I say with utmost seriousness, DON"T insult Jesus Christ by doing grape juice at your church!
The Reformation said all believers are priests!
Revelation chapter 1 says:

5 And from Jesus Christ, who is the faithful witness, and the first begotten of the dead, and the prince of the kings of the earth. Unto him that loved us, and washed us from our sins in his own blood,

6 And hath made us kings and priests unto God and his Father; to him be glory and dominion for ever and ever. Amen.
I think unleavened bread is also correct as it was in use at the Last Supper, being the Passover and the Days of Unleavened Bread. It correctly represents Christ's sinless body.
See also John 6:35-71 for the importance of eating Christ's body and blood. Text included later in this page.
Texts of the Last Supper are at Mt. 26:17-30, Mk. 14:12-26, Lk. 22:7-39, Jn. 13:1-17:26,1 Cor. 11:23-26.
On-line access to these and other passages can be found at BibleGateway.com.
In John 2 Jesus is making an EQUATION between Wine and his innocent blood.
John 2:
And the third day there was a marriage in Cana of Galilee; and the mother of Jesus was there:
2 And both Jesus was called, and his disciples, to the marriage.
3 And when they wanted wine, the mother of Jesus saith unto him, They have no wine.
4 Jesus saith unto her, Woman, what have I to do with thee? mine hour is not yet come.
5 His mother saith unto the servants, Whatsoever he saith unto you, do it.
6 And there were set there six waterpots of stone, after the manner of the purifying of the Jews, containing two or three firkins apiece.
7 Jesus saith unto them, Fill the waterpots with water. And they filled them up to the brim.
8 And he saith unto them, Draw out now, and bear unto the governor of the feast. And they bare it.
9 When the ruler of the feast had tasted the water that was made wine, and knew not whence it was: (but the servants which drew the water knew;) the governor of the feast called the bridegroom,
Wine IS the Virtual Blood of Christ.
I think unleavened bread is also correct as it was in use at the Last Supper, being the Passover and the Days of Unleavened Bread. It correctly represents Christ's sinless body.
See my pages, Red Wine Only at Christian Communion, and They Have No Wine for more detail.
1 Corinthians 11:
20 When ye come together therefore into one place, this is not to eat the Lord's supper.
21 For in eating every one taketh before other his own supper: and one is hungry, and another is drunken.
22 What? have ye not houses to eat and to drink in? or despise ye the church of God, and shame them that have not? what shall I say to you? shall I praise you in this? I praise you not.
23 For I have received of the Lord that which also I delivered unto you, that the Lord Jesus the same night in which he was betrayed took bread:
24 And when he had given thanks, he brake it, and said, Take, eat: this is my body, which is broken for you: this do in remembrance of me.
25 After the same manner also he took the cup, when he had supped, saying, this cup is the new testament in my blood: this do ye, as oft as ye drink it, in remembrance of me.
26 For as often as ye eat this bread, and drink this cup, ye do shew the Lord's death till he come.
27 Wherefore whosoever shall eat this bread, and drink this cup of the Lord, unworthily, shall be guilty of the body and blood of the Lord.
28 But let a man examine himself, and so let him eat of that bread, and drink of that cup.
29 For he that eateth and drinketh unworthily, eateth and drinketh damnation to himself, not discerning the Lord's body.
30 For this cause many are weak and sickly among you, and many sleep.
31 For if we would judge ourselves, we should not be judged.
32 But when we are judged, we are chastened of the Lord, that we should not be condemned with the world.
33 Wherefore, my brethren, when ye come together to eat, tarry one for another.
34 And if any man hunger, let him eat at home; that ye come not together unto condemnation. And the rest will I set in order when I come.
John 6:35-71 is very significant about the real presence of Christ in the Lord's Table.
Note: They did not grab his arm and start munching away, but it is clear that eating Christ's body and blood is intended very seriously. But many churches the Lord's Table far to casually.
35 And Jesus said unto them, I am the bread of life: he that cometh to me shall never hunger; and he that believeth on me shall never thirst.
36 But I said unto you, That ye also have seen me, and believe not.
37 All that the Father giveth me shall come to me; and him that cometh to me I will in no wise cast out.
38 For I came down from heaven, not to do mine own will, but the will of him that sent me.
39 And this is the Father's will which hath sent me, that of all which he hath given me I should lose nothing, but should raise it up again at the last day.
40 And this is the will of him that sent me, that every one which seeth the Son, and believeth on him, may have everlasting life: and I will raise him up at the last day.
41 The Jews then murmured at him, because he said, I am the bread which came down from heaven.
42 And they said, Is not this Jesus, the son of Joseph, whose father and mother we know? how is it then that he saith, I came down from heaven?
43 Jesus therefore answered and said unto them, Murmur not among yourselves.
44 No man can come to me, except the Father which hath sent me draw him: and I will raise him up at the last day.
45 It is written in the prophets, And they shall be all taught of God. Every man therefore that hath heard, and hath learned of the Father, cometh unto me.
46 Not that any man hath seen the Father, save he which is of God, he hath seen the Father.
47 Verily, verily, I say unto you, He that believeth on me hath everlasting life.
48 I am that bread of life.
49 Your fathers did eat manna in the wilderness, and are dead.
50 This is the bread which cometh down from heaven, that a man may eat thereof, and not die.
51 I am the living bread which came down from heaven: if any man eat of this bread, he shall live for ever: and the bread that I will give is my flesh, which I will give for the life of the world.
52 The Jews therefore strove among themselves, saying, How can this man give us his flesh to eat?
53 Then Jesus said unto them, Verily, verily, I say unto you, Except ye eat the flesh of the Son of man, and drink his blood, ye have no life in you.
54 Whoso eateth my flesh, and drinketh my blood, hath eternal life; and I will raise him up at the last day.
55 For my flesh is meat indeed, and my blood is drink indeed.
56 He that eateth my flesh, and drinketh my blood, dwelleth in me, and I in him.
57 As the living Father hath sent me, and I live by the Father: so he that eateth me, even he shall live by me.
58 This is that bread which came down from heaven: not as your fathers did eat manna, and are dead: he that eateth of this bread shall live for ever.
59 These things said he in the synagogue, as he taught in Capernaum.
60 Many therefore of his disciples, when they had heard this, said, This is an hard saying; who can hear it?
61 When Jesus knew in himself that his disciples murmured at it, he said unto them, Doth this offend you?
62 What and if ye shall see the Son of man ascend up where he was before?
63 It is the spirit that quickeneth; the flesh profiteth nothing: the words that I speak unto you, they are spirit, and they are life.
64 But there are some of you that believe not. For Jesus knew from the beginning who they were that believed not, and who should betray him.
65 And he said, Therefore said I unto you, that no man can come unto me, except it were given unto him of my Father.
66 From that time many of his disciples went back, and walked no more with him.
67 Then said Jesus unto the twelve, Will ye also go away?
68 Then Simon Peter answered him, Lord, to whom shall we go? thou hast the words of eternal life.
69 And we believe and are sure that thou art that Christ, the Son of the living God.
70 Jesus answered them, Have not I chosen you twelve, and one of you is a devil?
71 He spake of Judas Iscariot the son of Simon: for he it was that should betray him, being one of the twelve.
Jesus changing the water to wine in Cana - John 2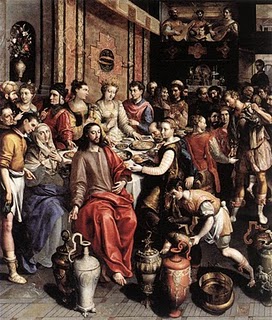 Romans chapter 11:
1 I say then, Hath God cast away his people? God forbid. For I also am an Israelite, of the seed of Abraham, of the tribe of Benjamin.
2 God hath not cast away his people which he foreknew. Wot ye not what the scripture saith of Elias? how he maketh intercession to God against Israel saying,
3 Lord, they have killed thy prophets, and digged down thine altars; and I am left alone, and they seek my life.
4 But what saith the answer of God unto him? I have reserved to myself seven thousand men, who have not bowed the knee to the image of Baal.
5 Even so then at this present time also there is a remnant according to the election of grace.
6 And if by grace, then is it no more of works: otherwise grace is no more grace. But if it be of works, then it is no more grace: otherwise work is no more work.
7 What then? Israel hath not obtained that which he seeketh for; but the election hath obtained it, and the rest were blinded.
8 (According as it is written, God hath given them the spirit of slumber, eyes that they should not see, and ears that they should not hear;) unto this day.
9 And David saith, Let their table be made a snare, and a trap, and a stumblingblock, and a recompence unto them:
10 Let their eyes be darkened, that they may not see, and bow down their back alway.
11 I say then, Have they stumbled that they should fall? God forbid: but rather through their fall salvation is come unto the Gentiles, for to provoke them to jealousy.
12 Now if the fall of them be the riches of the world, and the diminishing of them the riches of the Gentiles; how much more their fulness?
13 For I speak to you Gentiles, inasmuch as I am the apostle of the Gentiles, I magnify mine office:
14 If by any means I may provoke to emulation them which are my flesh, and might save some of them.
15 For if the casting away of them be the reconciling of the world, what shall the receiving of them be, but life from the dead?
16 For if the firstfruit be holy, the lump is also holy: and if the root be holy, so are the branches.
17 And if some of the branches be broken off, and thou, being a wild olive tree, wert grafted in among them, and with them partakest of the root and fatness of the olive tree;
18 Boast not against the branches. But if thou boast, thou bearest not the root, but the root thee.
19 Thou wilt say then, The branches were broken off, that I might be grafted in.
20 Well; because of unbelief they were broken off, and thou standest by faith. Be not highminded, but fear:
21 For if God spared not the natural branches, take heed lest he also spare not thee.
22 Behold therefore the goodness and severity of God: on them which fell, severity; but toward thee, goodness, if thou continue in his goodness: otherwise thou also shalt be cut off.
23 And they also, if they abide not still in unbelief, shall be grafted in: for God is able to graft them in again.
24 For if thou wert cut out of the olive tree which is wild by nature, and wert grafted contrary to nature into a good olive tree: how much more shall these, which be the natural branches, be grafted into their own olive tree?
25 For I would not, brethren, that ye should be ignorant of this mystery, lest ye should be wise in your own conceits; that blindness in part is happened to Israel, until the fulness of the Gentiles be come in.
26 And so all Israel shall be saved: as it is written, There shall come out of Sion the Deliverer, and shall turn away ungodliness from Jacob:
27 For this is my covenant unto them, when I shall take away their sins.
28 As concerning the gospel, they are enemies for your sakes: but as touching the election, they are beloved for the father's sakes.
29 For the gifts and calling of God are without repentance.
30 For as ye in times past have not believed God, yet have now obtained mercy through their unbelief:
31 Even so have these also now not believed, that through your mercy they also may obtain mercy.
32 For God hath concluded them all in unbelief, that he might have mercy upon all.
33 O the depth of the riches both of the wisdom and knowledge of God! how unsearchable are his judgments, and his ways past finding out!
34 For who hath known the mind of the Lord? or who hath been his counsellor?
35 Or who hath first given to him, and it shall be recompensed unto him again?
36 For of him, and through him, and to him, are all things: to whom be glory for ever. Amen.
San Francisco Wine Country