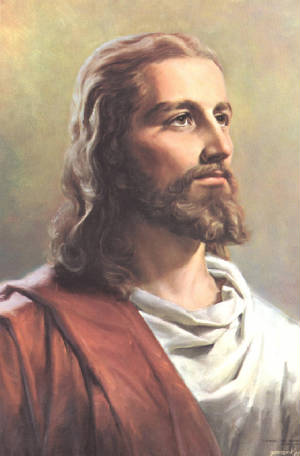 Jesus Christ is God in his own right and he was born into humankind through conception by God's Holy Spirit of a young Jewish virgin named Mary and through his birth in Bethlehem, Israel about 2012 years ago.
CHRISTIANITY REALLY HAS NO EQUAL!
JESUS CHRIST IS ABSOLUTELY UNIQUE.
New Testament book of Matthew Chapter 1:18 says:
18 Now the birth of Jesus Christ was on this wise: When as his mother Mary was espoused to Joseph, before they came together, she was found with child of the Holy Ghost.
19 Then Joseph her husband, being a just man, and not willing to make her a public example, was minded to put her away privily.
20 But while he thought on these things, behold, the angel of the LORD appeared unto him in a dream, saying, Joseph, thou son of David, fear not to take unto thee Mary thy wife: for that which is conceived in her is of the Holy Ghost.
21 And she shall bring forth a son, and thou shalt call his name JESUS: for he shall save his people from their sins.
22 Now all this was done, that it might be fulfilled which was spoken of the Lord by the prophet, saying,
23 Behold, a virgin shall be with child, and shall bring forth a son, and they shall call his name Emmanuel, which being interpreted is, God with us.
24 Then Joseph being raised from sleep did as the angel of the Lord had bidden him, and took unto him his wife:
25 And knew her not till she had brought forth her firstborn son: and he called his name JESUS.
NOTE -- I GET MY DOCTRINE FROM THE BIBLE, NOT FROM ANY CREEDS.
HOWEVER -- IN THIS CASE, THE NICENE IS CORRECTLY AND SKILLFULLY STATING THE TRUTH ABOUT JESUS.
The Nicene Creed says it correctly, about Jesus Christ, he is "Very God of Very God ... and was made man:"
We believe in one God the Father Almighty, Maker of heaven and earth, and of all things visible and invisible.
And in one Lord Jesus Christ, the only-begotten Son of God, begotten of the Father before all worlds, God of God, Light of Light, Very God of Very God, begotten, not made, being of one substance with the Father by whom all things were made;
who for us men, and for our salvation, came down from heaven, and was incarnate by the Holy Spirit of the Virgin Mary, and was made man, and was crucified also for us under Pontius Pilate.
He suffered and was buried, and the third day he rose again according to the Scriptures, and ascended into heaven, and sitteth on the right hand of the Father. And he shall come again with glory to judge both the quick and the dead, whose kingdom shall have no end.
And we believe in the Holy Spirit, the Lord and Giver of Life, who proceedeth from the Father and the Son, who with the Father and the Son together is worshipped and glorified, who spoke by the prophets.
And we believe one holy catholic and apostolic Church. We acknowledge one baptism for the remission of sins. And we look for the resurrection of the dead, and the life of the world to come. Amen. (NOTE -- catholic with small "c" means world-wide)
NOTE -- I reject the idea that apostolic succession has continued to the present day. We are saved by genuine faith in the Lord Jesus Christ and as believers, we are actual members of Christ's body.
The passage from Colossians below shows we are COMPLETE IN HIM! WE NEED NOTHING ELSE!
NOTE -- The term "descended into hell" IS IN the Apostle's Creed and SHOULD BE in this creed, too.
The Creeds, besides, in most cases, helping us verbalize and memorize what the Bible says, also provides firm historical confirmation of what Christianity holds to -- in case that ever comes into question.
In this age of apostasy and general ungodliness, AND fudged and weasel-worded modern bible versions it is very good to have the old creeds available to back us up.
Many modern churches make the mistake of completely ignoring these.
Sadly, other churches are "modernizing" the creeds, thus damaging them.
Little children brought unto Jesus
Suffer the little children to come unto me, and forbid them not: for of such is the kingdom of God.
THERE IS NO QUESTION JESUS CHRIST IS UNIQUE AMONG MEN.
In The New Testament book of John 7 we find:
45 Then came the officers to the chief priests and Pharisees; and they said unto them, Why have ye not brought him?
46 The officers answered, Never man spake like this man.
47 Then answered them the Pharisees, Are ye also deceived?
48 Have any of the rulers or of the Pharisees believed on him?
Plainly Jesus was unique.
The religious leaders knew perfectly well he was claiming to be God.
John10 says:
27 My sheep hear my voice, and I know them, and they follow me:
28 And I give unto them eternal life; and they shall never perish, neither shall any man pluck them out of my hand.
29 My Father, which gave them me, is greater than all; and no man is able to pluck them out of my Father's hand.
30 I and my Father are one.
31Then the Jews took up stones again to stone him.
32 Jesus answered them, Many good works have I shewed you from my Father; for which of those works do ye stone me?
33 The Jews answered him, saying, For a good work we stone thee not; but for blasphemy; and because that thou, being a man, makest thyself God.

JOHN THE BAPTIST BAPTISING JESUS CHIIST IN JORDAN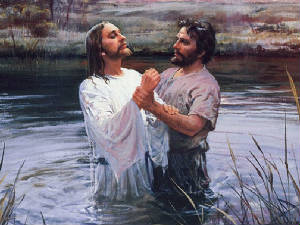 THIS WAS DIFFERENT IN PURPOSE FROM CHRISTIAN BAPTISM -- THE INAUGURATION OF HIS PUBLIC MINISTY
The New Testament letter to Colosse chapter 1,2 tells of the great things Jesus Christ has done for us believers, being himself "all the fullness of God, and thus God! (2:9).
He is also creator of all things -- He is genuinely "God with Us". The Nicene Creed, above, also notes this.
New Testament book of Colossians chapter 1:
1 Paul, an apostle of Jesus Christ by the will of God, and Timotheus our brother,
2 To the saints and faithful brethren in Christ which are at Colosse: Grace be unto you, and peace, from God our Father and the Lord Jesus Christ.
3 We give thanks to God and the Father of our Lord Jesus Christ, praying always for you,
4 Since we heard of your faith in Christ Jesus, and of the love which ye have to all the saints,
5 For the hope which is laid up for you in heaven, whereof ye heard before in the word of the truth of the gospel;
6 Which is come unto you, as it is in all the world; and bringeth forth fruit, as it doth also in you, since the day ye heard of it, and knew the grace of God in truth:
7 As ye also learned of Epaphras our dear fellowservant, who is for you a faithful minister of Christ;
8 Who also declared unto us your love in the Spirit.
9 For this cause we also, since the day we heard it, do not cease to pray for you, and to desire that ye might be filled with the knowledge of his will in all wisdom and spiritual understanding;
10 That ye might walk worthy of the Lord unto all pleasing, being fruitful in every good work, and increasing in the knowledge of God;
11 Strengthened with all might, according to his glorious power, unto all patience and longsuffering with joyfulness;
12 Giving thanks unto the Father, which hath made us meet to be partakers of the inheritance of the saints in light:
13 Who hath delivered us from the power of darkness, and hath translated us into the kingdom of his dear Son:
14 In whom we have redemption through his blood, even the forgiveness of sins:
15 Who is the image of the invisible God, the firstborn of every creature:
16 For by him were all things created, that are in heaven, and that are in earth, visible and invisible, whether they be thrones, or dominions, or principalities, or powers: all things were created by him, and for him:
17 And he is before all things, and by him all things consist.
18 And he is the head of the body, the church: who is the beginning, the firstborn from the dead; that in all things he might have the preeminence.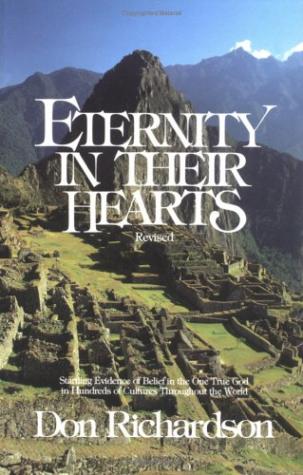 19
For it pleased the Father that in him should all fulness dwell;
20 And, having made peace through the blood of his cross, by him to reconcile all things unto himself; by him, I say, whether they be things in earth, or things in heaven.
21 And you, that were sometime alienated and enemies in your mind by wicked works, yet now hath he reconciled
22 In the body of his flesh through death, to present you holy and unblameable and unreproveable in his sight:
23 If ye continue in the faith grounded and settled, and be not moved away from the hope of the gospel, which ye have heard, and which was preached to every creature which is under heaven; whereof I Paul am made a minister;
24 Who now rejoice in my sufferings for you, and fill up that which is behind of the afflictions of Christ in my flesh for his body's sake, which is the church:
25 Whereof I am made a minister, according to the dispensation of God which is given to me for you, to fulfil the word of God;
26 Even the mystery which hath been hid from ages and from generations, but now is made manifest to his saints:
27 To whom God would make known what is the riches of the glory of this mystery among the Gentiles; which is Christ in you, the hope of glory:
28 Whom we preach, warning every man, and teaching every man in all wisdom; that we may present every man perfect in Christ Jesus:
29 Whereunto I also labour, striving according to his working, which worketh in me mightily.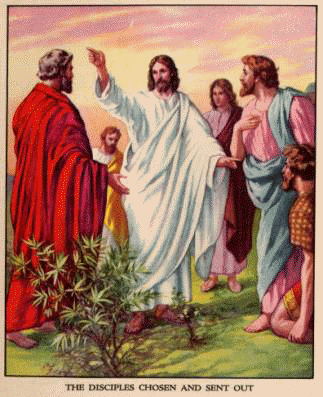 Chapter 2:
1 For I would that ye knew what great conflict I have for you, and for them at Laodicea, and for as many as have not seen my face in the flesh;
2 That their hearts might be comforted, being knit together in love, and unto all riches of the full assurance of understanding, to the acknowledgement of the mystery of God, and of the Father, and of Christ;
3 In whom are hid all the treasures of wisdom and knowledge.
4 And this I say, lest any man should beguile you with enticing words.
5 For though I be absent in the flesh, yet am I with you in the spirit, joying and beholding your order, and the stedfastness of your faith in Christ.
6 As ye have therefore received Christ Jesus the Lord, so walk ye in him:
7 Rooted and built up in him, and stablished in the faith, as ye have been taught, abounding therein with thanksgiving.
8 Beware lest any man spoil you through philosophy and vain deceit, after the tradition of men, after the rudiments of the world, and not after Christ.
9 For in him dwelleth all the fulness of the Godhead bodily.
10 And ye are complete in him, which is the head of all principality and power:
11 In whom also ye are circumcised with the circumcision made without hands, in putting off the body of the sins of the flesh by the circumcision of Christ:
12 Buried with him in baptism, wherein also ye are risen with him through the faith of the operation of God, who hath raised him from the dead.
13 And you, being dead in your sins and the uncircumcision of your flesh, hath he quickened together with him, having forgiven you all trespasses;
14 Blotting out the handwriting of ordinances that was against us, which was contrary to us, and took it out of the way, nailing it to his cross;
15 And having spoiled principalities and powers, he made a shew of them openly, triumphing over them in it.
16 Let no man therefore judge you in meat, or in drink, or in respect of an holyday, or of the new moon, or of the sabbath days:
17 Which are a shadow of things to come; but the body is of Christ.
18 Let no man beguile you of your reward in a voluntary humility and worshipping of angels, intruding into those things which he hath not seen, vainly puffed up by his fleshly mind,
19 And not holding the Head, from which all the body by joints and bands having nourishment ministered, and knit together, increaseth with the increase of God.
20 Wherefore if ye be dead with Christ from the rudiments of the world, why, as though living in the world, are ye subject to ordinances,
21(Touch not; taste not; handle not;
22 Which all are to perish with the using;) after the commandments and doctrines of men?
23 Which things have indeed a shew of wisdom in will worship, and humility, and neglecting of the body: not in any honour to the satisfying of the flesh.
HE WAS TRANSFIGED BEFORE THEM - MATTHEW 17, MARK 9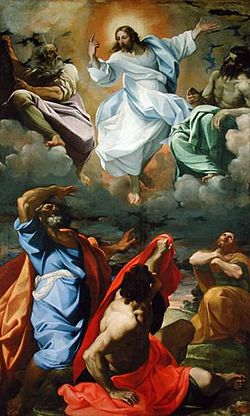 his face did shine as the sun, and his raiment was white as the light. there appeared...Moses, Elias

We enjoy the grandeur of the famous Hallelujah Chorus with its great references to Isaiah chapters 7-9:
Isaiah 7:
14 Therefore the Lord himself shall give you a sign; Behold, a virgin shall conceive, and bear a son, and shall call his name Immanuel.
Isaiah 9:
6 For unto us a child is born, unto us a son is given: and the government shall be upon his shoulder: and his name shall be called Wonderful, Counsellor, The mighty God, The everlasting Father, The Prince of Peace.
7 Of the increase of his government and peace there shall be no end, upon the throne of David, and upon his kingdom, to order it, and to establish it with judgment and with justice from henceforth even for ever. The zeal of the LORD of hosts will perform this.
Clearly Jesus Christ IS GOD!
JERUSALEM - THE CITY OF THE GREAT KING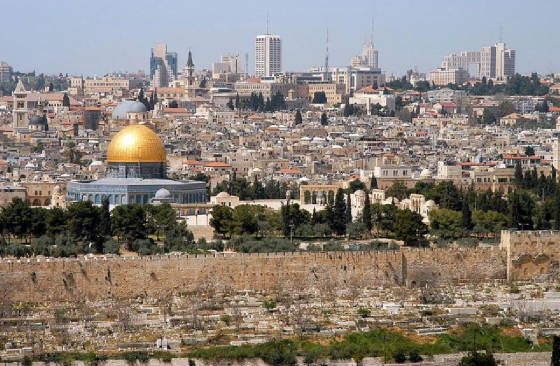 LOOKING WESTWARD FROM THE MOUNT OF OLIVES

1TIMOTHY 3:16, IN THE KING JAMES BIBLE, OR IN THE GENEVA BIBLE IS CRYSTAL CLEAR IN PROCLAIMING CHRIST'S ABSOLUTE DEITY.
TRAGICALLY THIS VERSE IS BADLY DAMAGED IN MODERN VERSIONS BY THE WRONGFUL SUBSTITUTION OF A PRONOUN, FOR THE NOUN, "GOD."
See also my page GOD WAS MANIFEST IN FLESH! for full details.
1TIMOTHY 3:16 IS CRITICALLY IMPORTANT.
16 And without controversy great is the mystery of godliness: GOD was manifest in the flesh, justified in the Spirit, seen of angels, preached unto the Gentiles, believed on in the world, received up into glory.
Matthew 17:
Christ's deity is plainly seen in the TRANSFIGURATION:
1And after six days Jesus taketh Peter, James, and John his brother, and bringeth them up into an high mountain apart,
2And was transfigured before them: and his face did shine as the sun, and his raiment was white as the light.
3And, behold, there appeared unto them Moses and Elias talking with him.
Mark 9:1-3
1And he said unto them, Verily I say unto you, That there be some of them that stand here, which shall not taste of death, till they have seen the kingdom of God come with power.
2And after six days Jesus taketh with him Peter, and James, and John, and leadeth them up into an high mountain apart by themselves: and he was transfigured before them.
3And his raiment became shining, exceeding white as snow; so as no fuller on earth can white them.
The Apostle John was closest to Jesus Christ
John 20:29-31 (King James Version)
29Jesus saith unto him, Thomas, because thou hast seen me, thou hast believed: blessed are they that have not seen, and yet have believed.
30And many other signs truly did Jesus in the presence of his disciples, which are not written in this book:
31But these are written, that ye might believe that Jesus is the Christ, the Son of God; and that believing ye might have life through his name.
John 21:24-25 (King James Version)
24This is the disciple which testifieth of these things, and wrote these things: and we know that his testimony is true.
25And there are also many other things which Jesus did, the which, if they should be written every one, I suppose that even the world itself could not contain the books that should be written. Amen.
Chose Jesus Christ as your personal Savior, today! See THEY CAME TO JESUS.
Christian baptism in the Jordan River, Israel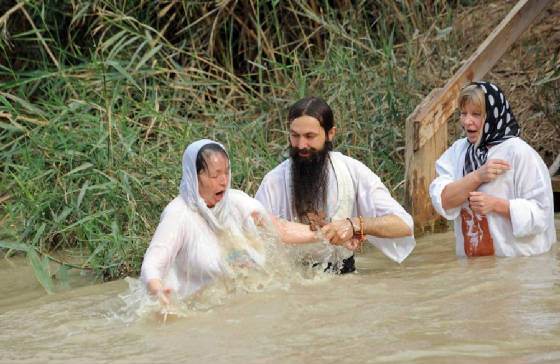 Symbolic entry into Christianity for persons who have embraced the Lord Jesus Christ by faith