WE MUST CAREFULLY CONSIDER A NUMBER OF THINGS TO KNOW IF THE HORSEMEN RIDE SOON!
Porter Stansberry, founder and the managing director of Stansberry & Associates, a Baltimore–based financial research firm talks strong and loud about big trouble just ahead.
He says, "About 6 months ago, I produced the first version of this presentation. It was an effort to warn people about what I believe is a very serious, impending currency and debt crisis in America, that will radically change our way of life and upset the balance of power around the world."
Porter Stansberry's End of America video, or his text Essay on the same subject.
NOTES: BOTH OF THESE LINKS MAY TAKE A MINUTE OR SO, TO LOAD. THE VIDEO IS ABOUT 77 MINUTES. ON THE TEXT SELECTION - IF YOU GET A WARNING BOX, CLICK ON "STAY ON THIS PAGE," AND YOU SHOULD GET THE TEXT.
I THINK STANSBERRY IS GIVING US WARNINGS WE NEED TO HEED, BUT, ALONG WITH OTHER IMPORTANT FACTORS.
WE MUST REALIZE THAT ONLY GOD HAS THE REAL ETERNAL ANSWERS IN THE SAVIOR JESUS CHRIST AND IN THE HOLY BIBLE.
Please consider the words of Woodrow Wilson and J. Edgar Hoover, with PSALM TWO BEING THE DETERMINING TRUTH.
That is - the determining truth that the real, actual, forces of evil, consisting of the "Kings of the Earth," and their demon handlers (Rulers), are making a determined effort to throw off the sovereign rule of God, and his Christ.
Psalm Two tells us this is true. God WILL win, but things will get quite scary as things move to a climax.
I have a lengthier paper on this -- The Mother of All Conspiracies.
Porter Stansberry's position fits this God revealed scenario, and is a part of it. All facets must be considered together.
Stansberry's view, of course, accords with those of a number of other careful, qualified, observers.
But, as he points out, it is obvious to us ordinary observers. The USA is spending and borrowing itself into oblivion, over a cliff, and will drag the whole world into a catastrophic train wreck.
Also see my page, We Are Living in Daniel the Prophet's Fourth Kingdom.
PSA 2 - The kings of the earth set themselves, the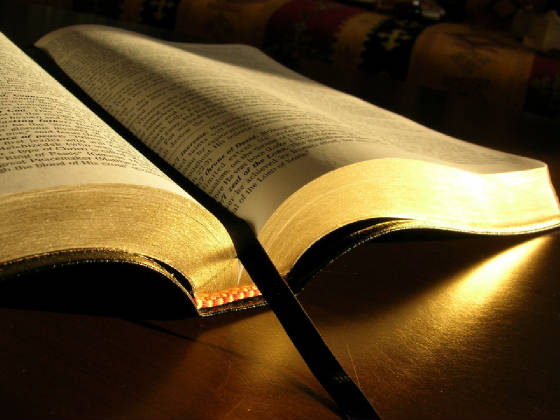 rulers take counsel together, against the LORD, and against his anointed. (They pervert Bibles too!)

The ride of the four horsemen is still future, but signs of the times are more and more ominous.
Psalm 2, which I discuss later, shows the "Kings of the Earth," and THEIR demonic handlers, "the rulers," have been working hard to overthrow God and Christ for a long long time.
I believe, as do many bible students, the horseman's ride will be preceded by the Rapture of the true Church, as Jesus Christ comes for his bride, to take her to his Father's house in heaven.
See also my page Does the Book of Revelation show the Rapture of the Church? - Yes Rev 4:1.
I'm convinced, national and world events and conditions, show we are moving rapidly to a climax.
I believe Jesus Christ is the ultimate Jewish Bridegroom and is following Jewish betrothal, and marriage, protocols.
This provides VERY STRONG reason to believe, along with other strong reasons, that Jesus will descend from heaven into earth's atmosphere to take his bride to his father's house in heaven.
This is know as the Rapture, or the Translation of the Church.
The New Testament book of 1Thessalonians 4:16-18 says:
16For the Lord himself shall descend from heaven with a shout, with the voice of the archangel, and with the trump of God: and the dead in Christ shall rise first:
17Then we which are alive and remain shall be caught up together with them in the clouds, to meet the Lord in the air: and so shall we ever be with the Lord.
18Wherefore comfort one another with these words.
The "shout" in verse 16 was the traditional Jewish bridegroom, "shouting" his arrival at the bride's old home, to take her to his Father's house for their honeymoon, called the "Huppah."
See the excellent paper by Charles L. Monk, Behold the Bridegroom Comes for details.
Monk's article is really Great, and well worth reading!
Also, see, my similar article, The Bridegroom and the Rapture Question.
This congruity of Jesus Christ as ultimate, Jewish, Bridegroom is so compelling, that along with much other evidence, many of us believe a seven year Huppah, for the bride and groom in heaven, at his Father's house, will follow the Rapture.
The Bride is the collection of all true believers in Jesus Christ, known collectively as the Church.
However, during this seven year period, unbelieving Israelites, who are not part of the Church, and all others, will undergo a severe testing period, know as the Tribulation, down here on earth.
For Israel, this is known as the Seventieth Week of Daniel, referring to the Old Testament book of Daniel.
Understanding the distinctiveness of Israel, versus the Church, in God's plan, is critical to all this.
It is explained in the New Testament, Romans chapters 9-11, especially chapter 11.
I will discuss this near the end of this paper.
Chuck Missler has videos explaining the 70th week of Daniel. Also, text article by Missler.
Other great works on 70th week: World of the Bible, Thomas Ice.
Daniel 9:24-27 (note - these "weeks" are Sabbatical Weeks, seven years each, not seven days each, so 70 of these weeks equal 490 years):
24 Seventy weeks are determined upon thy people and upon thy holy city, to finish the transgression, and to make an end of sins, and to make reconciliation for iniquity, and to bring in everlasting righteousness, and to seal up the vision and prophecy, and to anoint the most Holy.
25 Know therefore and understand, that from the going forth of the commandment to restore and to build Jerusalem unto the Messiah the Prince shall be seven weeks, and threescore and two weeks: the street shall be built again, and the wall, even in troublous times.
26 And after threescore and two weeks shall Messiah be cut off, but not for himself: and the people of the prince that shall come shall destroy the city and the sanctuary; and the end thereof shall be with a flood, and unto the end of the war desolations are determined.
27 And he shall confirm the covenant with many for one week: and in the midst of the week he shall cause the sacrifice and the oblation to cease, and for the overspreading of abominations he shall make it desolate, even until the consummation, and that determined shall be poured upon the desolate.
The prophesy is complex, but, it is clear that 69, 7 year weeks, 483 years, occur up to Messiah being "cut off," which means killed (he was crucified at Jerusalem).
There remains one remaining 7 year week, which involves, the Anti-Christ, termed, "prince that shall come."
The prophesy tells us the Anti-Christ will desecrate and cause to be desolate, the Holy Place, meaning, the Jewish Temple. The Temple is to be rebuilt.
Jesus Christ mentions this prophesy of Daniel in Matthew 24:15-16:
15
When ye therefore shall see the abomination of desolation, spoken of by Daniel the prophet, stand in the holy place, (whoso readeth, let him understand:)
16 Then let them which be in Judaea flee into the mountains:
It is this "Abomination of Desolation" that is occurring in 2Thessalonians chapter 2, with the Anti-Christ (Man of Sin) intruding into the Holy Place, in the future, rebuilt Jewish Temple, claiming to be God:
1Now we beseech you, brethren, by the coming of our Lord Jesus Christ, and by our gathering together unto him,
2That ye be not soon shaken in mind, or be troubled, neither by spirit, nor by word, nor by letter as from us, as that the day of Christ is at hand.
3Let no man deceive you by any means: for that day shall not come, except there come a falling away first, and that man of sin be revealed, the son of perdition;
4Who opposeth and exalteth himself above all that is called God, or that is worshipped; so that he as God sitteth in the temple of God, shewing himself that he is God.
5Remember ye not, that, when I was yet with you, I told you these things?
6And now ye know what withholdeth that he might be revealed in his time.
7For the mystery of iniquity doth already work: only he who now letteth will let, until he be taken out of the way.
8And then shall that Wicked be revealed, whom the Lord shall consume with the spirit of his mouth, and shall destroy with the brightness of his coming:
9Even him, whose coming is after the working of Satan with all power and signs and lying wonders,
10And with all deceivableness of unrighteousness in them that perish; because they received not the love of the truth, that they might be saved.
11And for this cause God shall send them strong delusion, that they should believe a lie:
12That they all might be damned who believed not the truth, but had pleasure in unrighteousness.
13But we are bound to give thanks alway to God for you, brethren beloved of the Lord, because God hath from the beginning chosen you to salvation through sanctification of the Spirit and belief of the truth:
14Whereunto he called you by our gospel, to the obtaining of the glory of our Lord Jesus Christ.
15Therefore, brethren, stand fast, and hold the traditions which ye have been taught, whether by word, or our epistle.
16Now our Lord Jesus Christ himself, and God, even our Father, which hath loved us, and hath given us everlasting consolation and good hope through grace,
17Comfort your hearts, and stablish you in every good word and work.
Note again verse 3 from the King James Bible:
3Let no man deceive you by any means: for that day shall not come, except there come a falling away first, and that man of sin be revealed, the son of perdition;
The Greek word underlying "falling away" is apostasia and is also translated "forsake" in Acts 21:21 (KJB) (Blue Letter Bible).
In the
Geneva Bible (1560/1599)
the verse 3 reads:
3 Let no man deceive you by any means, for that day shall not come, except there come a departing first, and that the man of sin be disclosed, even the son of perdition,
Notice the Geneva Bible uses "departing" in place of the King James Bible "falling away."
Point is -- apostasia can mean "departure," as in departing from the true God, or, it could mean "departure" of Christians from the Earth's surface in the Rapture.
I believe God can employ a word in BOTH meanings simultaneously. He likely IS.
That is - Christians (the Church, the body of Christ) must depart Earth, thus removing the thing that "withholdeth," (verse 6, both KJB and Geneva Bible.)
This allows the Man of Sin/Son of Perdition to be revealed AND the unholy departure from the true God, apostasia, of the world, to proceed.
2 Thessalonians 2:6 And now ye know what withholdeth that he might be revealed in his time. (both bibles)
This is further very strong evidence and reasoning that the Rapture must precede the revealing of the man of sin. And the Tribulation period.
I believe, along with others, this Man of Sin/Son of Perdition, will have been revealed 3.5 years prior to this.
That is -- 3.5 years before the Abomination of Desolation in the new Temple (2 Thessalonians 2:3-6).
That is -- about 3.5 years after the Rapture.
So the Man of Sin may seem to be a real great guy for 3.5 years.
But, then hoists up his true colors and --
-- "so that he as God sitteth in the temple of God, shewing himself that he is God." (verse 4)
He may have been acting as a wonderful world savior prior to showing his true colors as the "Abomination of Desolation" (Jesus' words Matthew 24:15) and "Man of Sin/Son of Perdition," in 2 Thessalonians 2:3, above.
epyouth.publishpath.com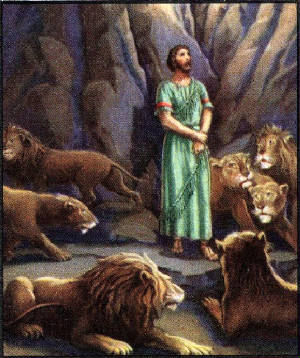 Daniel the Prophet, in the Lion's Den

So, the Anti-Christ, the rider on the White Horse, should have some time -- many bible students think 3.5 years to seduce the world to his rule.
Then he will hoist up his true colors, and demand to be worshiped as God in the Holy Place in the new Temple in Jerusalem.
Let me quote again from 2 Thessalonians 2:9-11:
9
Even him, whose coming is after the working of Satan with all power and signs and lying wonders,
10And with all deceivableness of unrighteousness in them that perish; because they received not the love of the truth, that they might be saved.
11And for this cause God shall send them strong delusion, that they should believe a lie:
Notice that the Anti-Christ, the "Man of Sin," will employ IMMENSE DECEPTION TO FOOL FOLKS. God will allow this!
Verse 11 says that even God will send upon them "strong delusion," because they reject him and Jesus Christ.
Again, the rider of the White Horse, will have perhaps 3.5 years to deceive people into thinking he is a great wonderful person with terrific answers to our world's serious problems.
Now, Revelation 6, and the 4 horseman's ride is stlll future, BUT.
The Devil has lots of advance help, as Psalm Two plainly says, with the Kings of the Earth, and their demonic handlers, the rulers, taking the most serious steps to cast off God's rule.
IT IS THUS, COMPLETELY REASONABLE TO SEE PORTER STANSBERRY'S MESSAGE AS A REAL, AND EXTREMELY SERIOUS WARNING. Again, it must be matched up with other important evidences.
IT IS POSSIBLE HIS WARNING IS ONE OF THE LAST WE WILL GET AND HAVE TIME TO ACT ON!
AS SAID BEFORE, HE IS JOINED BY OTHER EXPERTS IN HIS OPINION. Ordinary folks see it too!
HE GIVES US SOME GOOD ADVICE AS TO WHAT WE MIGHT STILL DO TO PROTECT OURSELVES.

THE NIMITZ
I MUST MAKE VERY CLEAR THAT ONLY GOD, THROUGH THE SAVIOR JESUS CHRIST CAN REALLY SAVE US FROM THE TROUBLES THAT ARE LIKELY TO BEFALL US, PERHAPS SOON.
I HAVE MANY PAGES LISTED AT THIS SITE THAT CAN HELP YOU EMBRACE JESUS CHRIST AS YOUR SAVIOR, SO YOU CAN GO TO HEAVEN.
I DOUBT THAT PORTER STANSBERRY IS A CHRISTIAN.
STILL, HE IS, LIKELY, ALERTING US TO SERIOUS TROUBLE AHEAD.
AND HE MAY WELL HAVE ADVICE TO GIVE US SOME TEMPORARY PROTECTION.
BUT ONLY GOD, AND HIS ANOINTED LORD AND SAVIOR, JESUS CHRIST, CAN DELIVER US TO ETERNAL LIFE IN HEAVEN, REGARDLESS OF WHAT HAPPENS TO US IN THE HERE AND NOW!
I want to talk about the New Testament passage, Romans chapter 11.
It is critical to understand that God has different purposes for Israel vs the Church.
He also has great common purposes, especially in the future for both groups.
With the earthly death of Jesus Christ, God began to work with gentile believers more and more.
As Saint Paul (Apostle Paul) says, God broke off the natural branches (Israel) and grafted gentile believers into the same root.
Thus, he sets aside Israel, in favor of the largely gentile Church, during this Church age.
So the Church is said to be a great "parenthesis."
But God will in the future, I think, soon, remove the largely gentile Church from the earth, in the Rapture, and will then resume his ancient program with Israel -- the 70th week of Daniel's great prophesy.
He will remove the wild branches, and graft the natural branches back into their natural root.
IT IS THE DISTINCTIVENESS OF THESE TWO GROUPS AND PURPOSES OF GOD THAT MAKES IT NECESSARY THAT THE CHURCH BE REMOVED FROM THE PICTURE, BEFORE, GOD WILL RESUME HIS ANCIENT PROGRAM WITH ISRAEL!
THUS THE RAPTURE OF THE CHURCH MUST OCCUR, BEFORE, THE GREAT TRIBULATION, DANIEL'S PROPHESIED 70TH WEEK of seven years, BEFORE GOD WILL RESUME HIS ANCIENT PROGRAM WITH HIS OLD TESTAMENT PEOPLE ISRAEL!
New Testament book of Romans chapter 11:
1I say then, Hath God cast away his people? God forbid. For I also am an Israelite, of the seed of Abraham, of the tribe of Benjamin.
2God hath not cast away his people which he foreknew. Wot ye not what the scripture saith of Elias? how he maketh intercession to God against Israel saying,
3Lord, they have killed thy prophets, and digged down thine altars; and I am left alone, and they seek my life.
4But what saith the answer of God unto him? I have reserved to myself seven thousand men, who have not bowed the knee to the image of Baal.
5Even so then at this present time also there is a remnant according to the election of grace.
6And if by grace, then is it no more of works: otherwise grace is no more grace. But if it be of works, then it is no more grace: otherwise work is no more work.
7What then? Israel hath not obtained that which he seeketh for; but the election hath obtained it, and the rest were blinded.
8(According as it is written, God hath given them the spirit of slumber, eyes that they should not see, and ears that they should not hear;) unto this day.
9And David saith, Let their table be made a snare, and a trap, and a stumblingblock, and a recompence unto them:
10Let their eyes be darkened, that they may not see, and bow down their back alway.
11I say then, Have they stumbled that they should fall? God forbid: but rather through their fall salvation is come unto the Gentiles, for to provoke them to jealousy.
12Now if the fall of them be the riches of the world, and the diminishing of them the riches of the Gentiles; how much more their fulness?
13For I speak to you Gentiles, inasmuch as I am the apostle of the Gentiles, I magnify mine office:
14If by any means I may provoke to emulation them which are my flesh, and might save some of them.
15For if the casting away of them be the reconciling of the world, what shall the receiving of them be, but life from the dead?
16For if the firstfruit be holy, the lump is also holy: and if the root be holy, so are the branches.
17And if some of the branches be broken off, and thou, being a wild olive tree, wert grafted in among them, and with them partakest of the root and fatness of the olive tree;
18Boast not against the branches. But if thou boast, thou bearest not the root, but the root thee.
19Thou wilt say then, The branches were broken off, that I might be grafted in.
20Well; because of unbelief they were broken off, and thou standest by faith. Be not highminded, but fear:
21For if God spared not the natural branches, take heed lest he also spare not thee.
22Behold therefore the goodness and severity of God: on them which fell, severity; but toward thee, goodness, if thou continue in his goodness: otherwise thou also shalt be cut off.
23 And they also, if they abide not still in unbelief, shall be grafted in: for God is able to graft them in again.
24For if thou wert cut out of the olive tree which is wild by nature, and wert grafted contrary to nature into a good olive tree: how much more shall these, which be the natural branches, be grafted into their own olive tree?
25For I would not, brethren, that ye should be ignorant of this mystery, lest ye should be wise in your own conceits; that blindness in part is happened to Israel, until the fulness of the Gentiles be come in.
26And so all Israel shall be saved: as it is written, There shall come out of Sion the Deliverer, and shall turn away ungodliness from Jacob:
27For this is my covenant unto them, when I shall take away their sins.
28As concerning the gospel, they are enemies for your sakes: but as touching the election, they are beloved for the father's sakes.
29For the gifts and calling of God are without repentance.
30For as ye in times past have not believed God, yet have now obtained mercy through their unbelief:
31Even so have these also now not believed, that through your mercy they also may obtain mercy.
32For God hath concluded them all in unbelief, that he might have mercy upon all.
33O the depth of the riches both of the wisdom and knowledge of God! how unsearchable are his judgments, and his ways past finding out!
34For who hath known the mind of the Lord? or who hath been his counsellor?
35Or who hath first given to him, and it shall be recompensed unto him again?
36For of him, and through him, and to him, are all things: to whom be glory for ever. Amen.
As Psalm 2, below, shows, the Kings of the Earth and the Rulers, their demonic handlers are making a determined effort to throw off God's rule from them.
See my Woodrow Wilson page for further comment:
Psalm 2
1 Why do the heathen rage, and the people imagine a vain thing?
2 The kings of the earth set themselves, and the rulers take counsel together, against the LORD, and against his anointed, saying,
3 Let us break their bands asunder, and cast away their cords from us.
4 He that sitteth in the heavens shall laugh: the LORD shall have them in derision.
5 Then shall he speak unto them in his wrath, and vex them in his sore displeasure.
6 Yet have I set my king upon my holy hill of Zion.
7 I will declare the decree: the LORD hath said unto me, Thou art my Son; this day have I begotten thee.
8 Ask of me, and I shall give thee the heathen for thine inheritance, and the uttermost parts of the earth for thy possession.
9 Thou shalt break them with a rod of iron; thou shalt dash them in pieces like a potter's vessel.
10 Be wise now therefore, O ye kings: be instructed, ye judges of the earth.
11 Serve the LORD with fear, and rejoice with trembling.
12 Kiss the Son, lest he be angry, and ye perish from the way, when his wrath is kindled but a little. Blessed are all they that put their trust in him.
See my page They Came to Jesus for the bible accounts of three men who did so.
THE TITANIC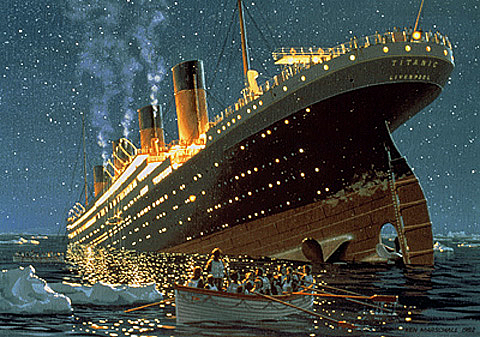 APR 10, 1912 TITANIC LEAVES SOUTHAMPTON -- APR 15,1912 -- TITANIC SINKS